About Magic Filters

Magic Filters are designed, tested and brought to you by underwater photographers Dr Alex Mustard and Peter Rowlands! The original Magic filter came about through Alex wanting to develop a filter to extend the types of images he could take. While refining the filter in the Red Sea with Peter, other photographers who saw our images persuaded us not to keep the filter for ourselves. And so Magic Filters was born. Despite the name, there is no Magic. All our filters are custom recipes that we have found produce the best results while taking photographs underwater.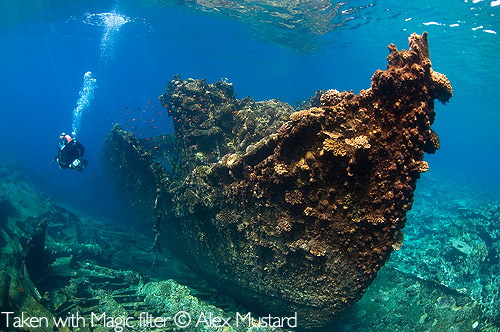 Peter Rowlands exploring a shipwreck. Taken with Magic Filter. © Alex Mustard (2006)

We sold our first filter (the original Magic) on 15th August 2005 and have now sold them to underwater photographers in more than 60 countries. We also currently have 24 respected underwater photography dealers stocking our filters. Our range has now grown and we sell four filters: the original Magic for SLRs and EVIL cameras in blue waters, the Auto-Magic, which is Magic filter specially formulated for digital compact cameras and available in gel or external mounting form, and the Greenwater Magic, which is designed for use in green temperate waters.



We have tried to price our filters reasonably so that all underwater photographers can afford to give this new technique a go. All our gel filters are full optical quality polyester filters made only for us to our exact recipes that we have refined through taking pictures underwater. Magic filters start at just £22 (GBP), plus a small postage and packing charge (£3.50-8.00 depending on order size) that covers delivery to anywhere in the world.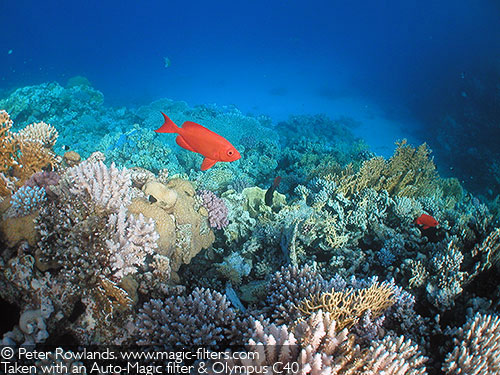 Bigeye on reef. Taken with Auto-Magic. © Peter Rowlands (2006)

An important part of the Magic Filters philosophy is to help our customers get great images with their filters. Only recently has filter photography become popular and most underwater photography books hardly mention it - although Peter is keen to point out that The Underwater Photographer's Handbook (1984) by a certain P. Rowlands covers the subject thoroughly. Both this website and the instruction leaflet contain many tips on how to get the best out of your filter and illuminate your images effectively with ambient light.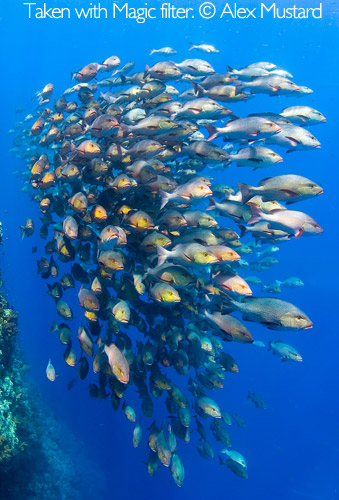 Schooling snappers. Taken with original Magic. © Alex Mustard (2006)

Our biggest satisfaction as keen underwater photographers ourselves has been seeing the new types of images people are producing with our filter. In a short space of time images take with Magic filters have appeared in numerous dive magazines, books and advertising campaigns. One of our proudest moments was when Rand McMeins won the Best in Show and the David Doubilet Award for excellence in the underwater photography with a shot taken with a Magic filter at Beneath the Sea 2006, within a year of us launching the filter. We would like to think that our filters have revolutionised available light photography underwater.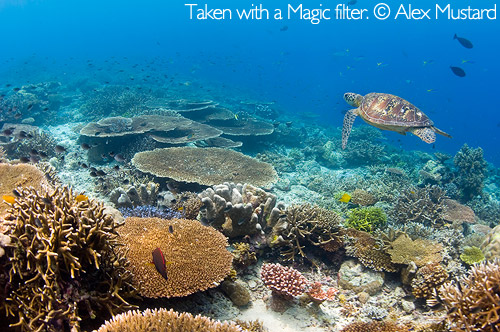 Sipadan Reef. Taken with Magic Filter. © Alex Mustard (2006)
Please take look through the galleries on this website and see what the Magic can do (we are aware that we could have a flashier website, but that would mean putting up our filter prices). Magic filters let us take a completely new type of underwater photo. Surely there can be nothing more exciting for a photographer than the prospect of creating images that they have never taken before.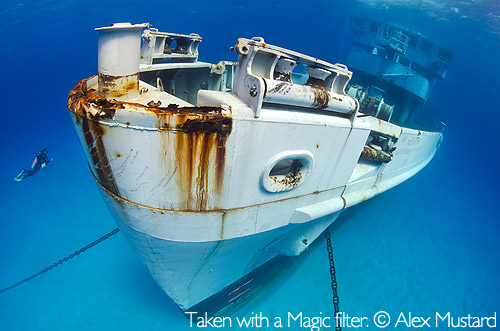 Kittiwake wreck. Taken with Magic Filter. © Alex Mustard (2011)


Enjoy the Magic!

Alex and Peter.


Alex demonstrating you don't even need to be
able to see clearly to use the Magic! ©AM


Peter pulls the hair of another diver as a punishment
after he sees him using a strobe! ©AM


Of course both images were taken with Magic Filters.
[Magic Galleries]
[Auto-Magic filter] [original Magic filter] [Greenwater Magic filter]
[Instructional DVD]
[Online Store]