The Magic filter

The original Magic is designed for digital SLR cameras, shooting available light stills or video, although can be used succesfully on compacts and video cameras. This filter is designed to work with the adjustable manual white balance of the camera, and give high image quality while working over a wide depth range and without causing too much loss of light.

The principle is similar to a traditional red filter. However, the Magic filter is not just a single colour, but a precise recipe derived from extensive real world underwater photography tests with digital cameras. Our recipe was derived by us for our own photography. It is not availble off the shelf and other filters sold for underwater photography do not use it. The original Magic filter looks orangey.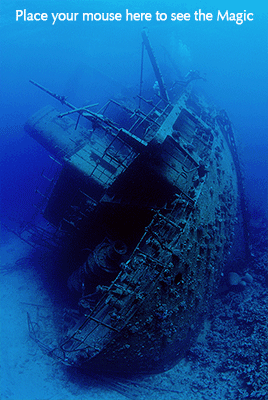 The original image of the Giannis D wreck (left) was taken on film in 2001, the Magic image was taken on digital with a Magic Filter in 2005. Both are lit with only ambient light.

Magic Filters are designed to fit on all the common wide angle lenses used underwater by DSLR photographers - we supply 6 sizes for DSLRs.
If you are after a filter for the popular Tokina 10-17mm click here.
For compact cameras or other applications we provide a one size fits all 50x50mm square of filter - this can easily be cut to fit your lens with a pair of scissors. Click on the "more info on the filters" link at the bottom of this page to see more on the filter and sizes.

The Magic not only makes underwater easy, it also solves the technical shortcomings of getting colour with flash. Flashguns cannot light up large subjects, but with a filter you can get colour over massive areas. Strobe light also falls off rapidly with distance, but with the filter you can taken shots where colour penetrates deep into the images away from the lens. Several new SLRS offer high definition video capabilities. Magic filters allow you to switch between shooting stills and video in full colour, and are the only
filters
designed for underwater use that fit on the popular fisheye lenses. Click here to see a video shot with the Canon 5D Mk2 and a Magic Filter by Jim Decker and Russ Sanoian of Backscatter, or play the video below take by Peter on the wreck of the Giannis D (yep, the same wreck as on the left).

The original Magic Filter is designed to work with your cameras white balance, when set manually,to produces great results over as wide a depth range as possible. It will produce vibrantly coloured images from the surface down to 15m (50ft), and then subtler, more muted tones there after, which are still an improvement on reality. That said the filter is designed to work best for available light shooting, in clear blue water, on bright sunny days between 3 and 13m, but users keep sending in great images taken down to 20m or more (the propeller in the video, below, is at 20m).


Video of Giannis D. Shot with Canon 7D and original Magic filter. Peter Rowlands. June 2010

Magic Filters aren't for every dive, but they do enable underwater photographers to take types of images that they never could before.

The images below give you a small taster of the types of image that the Magic Filter can produce. But please look at the Gallery on this website, where there are many more examples, taken by Alex and Peter and also an excellent gallery of images taken by those people who bought the Magic filters during our first year (August '05-August '06).


[Why do I need a filter?]
[More info on the Magic filter] [Buy the Magic filter]

[About Magic] [Magic Galleries] [FAQ] [Tips & Techniques] [Contact/Dealers]
[Auto-Magic filter] [original Magic filter] [Greenwater Magic filter]
[Instructional DVD]
[Online Store]