More info on the Magic filter


The original Magic filter is available in 6 different sizes of optical quality polyester gels. All our original Magic filters are pre-packed as singles or three packs. We recommend 3 packs for travelling photographers in case you damage or loose a filter in the field (or want to lend one to a friend, for a fee, of course!).

Magic filters were originally designed as rear mounted filters because many DSLR wide angle lenses, popular in underwater photography, have specific filter slots on them for gel filters. A few wide-angle zooms do not have these filter holders so we also produce the Magic Filter as a 77mm diameter front of lens filter. The Magic M77 is also large enough to be cut by the user for a variety of other lenses. There are more details on which filter is the right one for your lens on the buy page. An alternative to the

We also recommend the original Magic for advanced compact cameras (e.g. G-series Canon) and 4/3s and EVIL cameras and supply the original Magic as 50x50mm squares, so that the user can cut the filter to fit their camera. This size is also well suited to the Tokina 10-17mm. For some applications (such as a Nikon fit Tokina 10-17mm) a single sheet may provide enough material for four or more filters.



Fitting filters


When fitting filters only handle them by the edges to avoid getting fingerprints on the centre (see below, left). Rear filter holders are designed for gel filters and will hold the filter securely in place. The Nikon 16mm lens is unusual and the Magic 16N should be placed in the removable bayonet filter holder, on the back of the lens (below, right).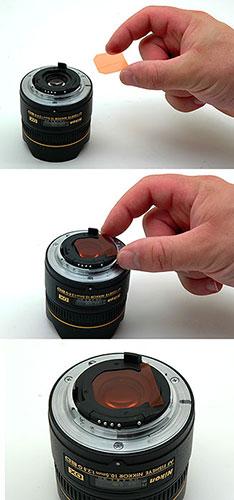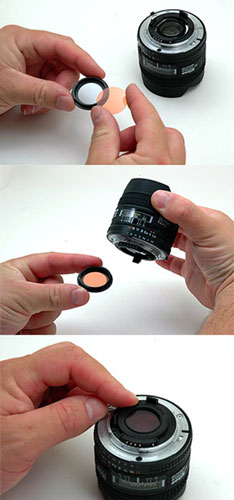 The Magic 77 fits on the front of the lens. This filter should be placed between your dioptre lens and the front element of the lens (below left). If you do not use a dioptre then the Magic 77 can be held in place with a standard UV filter. Alternately you can mount the dioptre is an empty filter mount (below, right).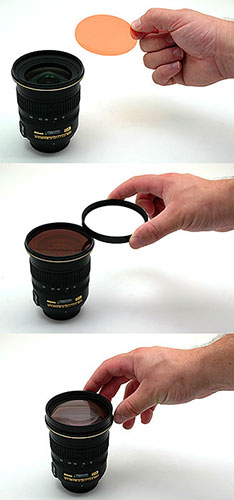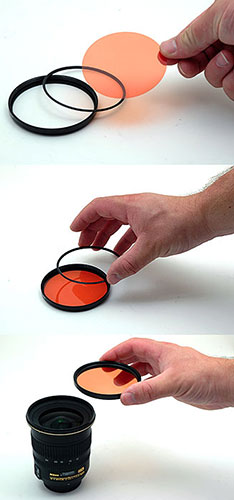 We now have a stock of some secondhand empty 77mm filter mounts available and we can send you one with your filters if you need it. They cost £15 including postage (please make a note of this with your order). You will only need one filter holder with a pack of three Magic 77s! The filter holder is made up of two rings, it is also possible to hold the magic filter in place on the front of the lens using only the thin internal ring from the filter holder directly on the lens.


There is more information on fitting filters in the tips section of this website. The Tips & Techniques section also contains detailed information on how to shoot with the Magic Filter.
[More info on the Magic filter] [Buy the Magic filter]

[About Magic] [Magic Galleries] [FAQ] [Tips & Techniques] [Contact/Dealers]
[Auto-Magic filter] [original Magic filter] [Greenwater Magic filter]
[Instructional DVD]
[Online Store]